Spiritual and Luminous Dimensions of NOOR Mowlana Hazar Imam (a.s.)
Sparking the Golden Noorani and Golden Jubilee Didar Spirit
Gems of Knowledge, Venti Ginans Verses and Special Dhikr
Bismillahir Rahmanir Rahim
In the name of Allah, the Most Beneficent, the Most Merciful.
Project Duration: 7 weeks from May 21, 2007 to July 7, 2007
Objectives
This seven week project has been developed to understand the spiritual and luminous dimensions of NOOR Mowlana Hazar Imam amd to spark the Golden Noorani and Golden Jubilee Didar Spirit. Each weekly post has four parts:

1. Knowledge Section;
2. Selected venti verses from beautiful ginans of our Holy Pirs;
3. Special Ya Ali, Mowla Ali Dhikr for 7 weeks;
4. Angelic Salwat Dhikr.
Title of the Weekly Post
Global Prayer:
Ya Ali, Ya NOOR Mowlana Shah Karim Al-Hussaini Hazar Imam, grant us, our families, our Jamats, the worldwide Jamat, the Muslim Ummah, and humanity at large, luminous (noorani) and spiritual (ruhani) ta'id (help) to advance materially, spiritually and intellectually.
O Mowla make us One global Jamat with One Sound Heart (Qalb-i Salim), bless us with the Golden Noorani and the Golden Jubilee Didars, and empower us to present Material, Spiritual and Luminous Nazranas. Ameen.
Haizinda — Qayampaya
(Our Present Imam is Living and His NOOR is Eternal)
Peace, light, barakat, tayid and a 'golden noorani didar',
Noorallah Juma
July 7, 2007
Golden Jubillee Sparks: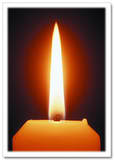 The lit candle represents the Light of Imamat. Let us actualize this Light into our spiritual hearts, heads, & consciences so that we may also be able to submit spiritual & luminous nazranas in the Diamond Jubilee.
Resources for Personal Search