We're sorry, an error has occurred with your request.
A message has been sent to the site administrator.
Please try another area of the website.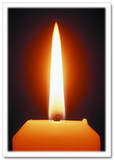 The lit candle represents the Light of Imamat and appears on each page of this website. In the Ismaili Tariqah, the Imam's Ta'lim lights the murid's path to spiritual enlightenment and vision.