Ya Ali Madad! On the occasion of the birthday commemoration of our first Holy Imam, Amir al-mu'minin, NOOR Mowlana Murtaza Ali (alayhi salaam), let us reflect upon the luminous duty of NOOR Mowlana Murtaza Ali (a.s.) and NOOR Mowlana Hazar Imam, the Ali of our time.
Let us recite a bouquet of salwats to strengthen our knowledge (ilm) and faith (iman) and commit ourselves to practice luminous prayer (bandagi) with a luminous word (supreme name, ism-i azam, bol) at the luminous time (early hours of the morning).
Follow these links to read an article or a poem on salwat, or hear the recitation of Ayatul Kursi and Salwat.
Global Prayer:
Ya Ali, Ya NOOR Mowlana Shah Karim Al-Hussaini Hazar Imam, grant us, our families, our Jamats, the worldwide Jamat, the Muslim Ummah, and humanity at large, luminous (noorani) and spiritual (ruhani) ta'id (help) to advance materially, spiritually and intellectually.
O Mowla make us One global Jamat with One Sound Heart (Qalb-i Salim), bless us with the Golden Noorani and the Golden Jubilee Didars, and empower us to present Material, Spiritual and Luminous Nazranas. Ameen.
Peace, light, barakat, tayid, and Golden Jubilee & Golden Noorani Didars,
Noorallah Juma
July 14, 2008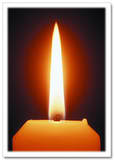 The lit candle represents the Light of Imamat. Let us actualize this Light into our spiritual hearts, heads, & consciences so that we may also be able to submit spiritual & luminous nazranas in the Diamond Jubilee.
Resources for Personal Search