Search Form for the SalmanSpiritual.com website
We have a great pleasure to incorporate a Google search engine for our site. This will enable you to quickly navigate the site for specific topics. Our faith teaches us to search for knowledge and use it for our personal search for higher spiritual enlightenment. Learn, enjoy and prosper spiritually!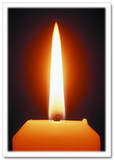 The lit candle represents the Light of Imamat. Let us actualize this Light into our spiritual hearts, heads, & consciences so that we may also be able to submit spiritual & luminous nazranas in the Diamond Jubilee.