A Poem on Salwat:
Ya Allah, Ya Muhammad, Ya Ali
O Brothers and Sisters, do not rest,
Till all of us pass the test,
For Salwat is ours,
To be recited every hour.
When the salwat poses,
It becomes the staff of Moses.
Let the baraka of Allah, Muhammad and Ali flow,
And see the true believers glow.
Let love and consciousness grow,
And see negativity hit a new low,
For darkness disappears,
When the Sun appears.
– Noorallah G. Juma –
Follow these links to read an article on salwat, and hear the recitation of Ayatul Kursi and Salwat or continuous salwat.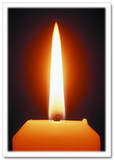 The lit candle represents the Light of Imamat. Let us actualize this Light into our spiritual hearts, heads, & consciences so that we may also be able to submit spiritual & luminous nazranas in the Diamond Jubilee.