40 Luminous Prayer Cards to Expand the Spiritual Heart and Create Inner Peace
Bismillahir Rahmanir Rahim
In the name of Allah, the Most Beneficent, the Most Merciful.
Satisfaction of Heart
"The single remedy for every kind of false fear, every kind of perplexity, inferiority complex, worldly greed, embarrassment, torment of bad or disturbing thoughts, sadness, restlessness, disappointment, unwanted anger, indignity, slip of tongue, lack of courage, malice, pride, vanity, ignorance, negligence, laziness, meanness, uneasiness, oblivion, obtuseness, mental confusion and other such ethical and spiritual diseases, is the satisfaction of heart which is attained from the blessings of Divine remembrance as is said in verse (13:28): "Verily in the remembrance of God do the hearts find satisfaction (gradually)." It should be remembered that, from the remembrance of God, the hearts find satisfaction gradually. Since the hearts are in different ranks, therefore, from the beginning to the end, the satisfaction depends on the knowledge and good deeds of each individual." [Source: Spiritual Healing, p. 11]
Luminous Prayer Cards
In view of the above teaching and current state of human beings, it is necessary to perform extra prayers in order to create peace within oneself and then extend this inner peace to fellow human beings. The goal of this project is to create a list of prayers which would encourage a large number of people to call on God to extend peace on Earth and for the salvation of countless millions of souls. I have taken an Ismaili Muslim viewpoint in developing these prayer cards and am solely responsible for this project. Participation is voluntary and/or by invitation.
The 40-day Period
The motivation for this 40-day project is the following hadith of the Holy Prophet: "Whoever worships God sincerely for 40 days, God opens his heart, expands his chest and loosens his tongue to speak with wisdom even though he may be very weak in speaking and understanding." (Ahadith-i Mathnawi, p. 196). The current project will have five posts per week, starting on Monday, March 22, 2004 and ending on Friday, May 14, 2004.
Special Mailing List
If you would like a close friend, associate or a family member to be a part of this project, please educate them first and then forward the prayer card to them. If you like to have them listed on my special e-mail list, please send to me their first name, last name, e-mail address, city and country. The intent of this project is to extend the cycle of well-wishing through Divine Remembrance. My e-mail address is noor-allah@salmanspiritual.com.
Luminous Prayer Card Index
May your noble intentions be fulfilled through the barakat and light of these prayers. Ameen.
Haizinda — Qayampaya
(Our Present Imam is Living and His NOOR is Eternal)
Peace, light, barakat, tayid (spiritual help), zaheri-noorani and batini-noorani didars,
Noorallah Juma
March 22, 2004
40 Luminous Prayer Cards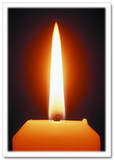 The lit candle represents the Light of Imamat. Let us actualize this Light into our spiritual hearts, heads, & consciences so that we may also be able to submit spiritual & luminous nazranas in the Diamond Jubilee.
Current Projects
Moti Vênti — Baitul Khyal Satado
Moti Vênti verses, Gratitude Dhikr & Angelic Salwat
(7 Days: Nov 2-8, 2018)
Anant Akhado
Anant Akhado Verses, Gratitude Dhikr and Angelic Salwat
(40 Days: Nov 4-Dec 13, 2018)
Other Potential Projects
Anant Akhado and Nav Chhuga Combined Project
Anant Akhado & Ana(n)t nâ Nav Chhugâ Verses, Gratitude Dhikr, dhikr of 99 Beautiful Names of Allah and Angelic Salwat
(49 Days: TBA)
Anant Akhado Venti Verses
Vênti Verses from Anant Akhado, Gratitude Dhikr & Angelic Salwat
(7 Days: TBA; 10 min before first dua)
Anant Akhado Dasond Verses
28 Dasond verses from Anant Akhado, Gratitude Dhikr & Angelic Salwat
(9-day Project: TBA)
Ana(n)t nâ Nav Chhuga
Ana(n)t nâ Nav Chhugâ verses, Gratitude Dhikr & Angelic Salwat
(9 Days: TBA; 20 min before first dua)
Ana(n)t nâ Nav Chhuga and Dasond verses
Recitation of Ana(n)t nâ Nav Chhugâ, 28 dasond verses, Gratitude Dhikr and Angelic Salwat
(9 Days: TBA)
Diamond Jubilee Sparks :: Higher Spiritual Enlightenment Educational Posts
The goal of this website is to provide resources for actualizing the Light of Imamat in one's spiritual heart, head, sense and conscience. This will enable each murid to also present spiritual and luminous nazranas as described below to Noor Mowlana Hazar Imam in the Diamond Jubilee.
A
Spiritual Nazrana
is in the form of a pure spiritual heart which is in a state of constant dhikr.
A
Luminous Nazrana
is in the form of a sound heart (qalb-i salim) which is in a state of constant dhikr & enlightenment.
Dhikr & Tasbi Tracks:
NOOR Mowlana Murtaza Ali (a.s.) has said:
"Remember that the descendants of the Holy Prophet (S.A.S.) are stars in the Heaven, if one sets the other will rise to illumine your path; the Merciful Lord has thus completed His Blessings amongst you."
NOOR Mowlana Shah Karim Al-Hussaini (a.s.) Hazar Imam's prayer:
"And I pray that you may live in peace and with spiritual enlightenment to guide you."